Hulk Hogan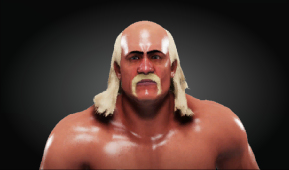 Show:
Deactivated
None / None
6-ft-8 / 303 lbs (None)
Venice Beach, California
Debut: 2020-03-02
Entrance: None selected (48 sec)
Match Results (Last 35 Days)
No matches in last 35 days.
Fun Facts
At the age of 12, he was already 6 feet tall.
His 3 Demandments: Eat your vitamins, train hard, and say your prayers.
Was the first person to get out of the Iron Sheik's dreaded 'camel clutch'.
Special Moves
Signature 1:
Signature 2:
Finisher 1:
Finisher 2:
Match Stats by Type
Singles: 8-11-1
Win by: Pinfall: 8
Losses by: Pinfall: 9, Count-Out: 1, Submission: 1
No Falls: 1

Triple Threat (1-fall): 2-5-4
Win by: Pinfall: 2
Losses by: Pinfall: 4, Submission: 1
No Falls: 1

Four-Way (1-fall): 0-0-1
No Falls: 1

Four-Way (Elim): 0-5
Elims by: Pinfall: 1
Eliminated by: Pinfall: 4, Submission: 1

Five-way (Elim): 0-1
Eliminated by: Pinfall: 1

Eight-Way (Elim): 0-2
Eliminated by: Pinfall: 2

Battle Royal: 3-8 (10 Eliminations)

Royal Rumble (10): 0-1 (2 Eliminations)

Royal Rumble (30): 0-1 (6 Eliminations)