Ruinstrider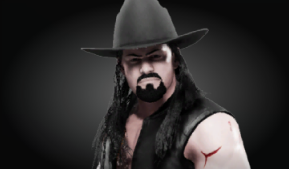 Show:
Deactivated
None / None
6-ft-8 / 335 lbs (None)
The Other Side of Darkness
Debut: 2020-08-09
Entrance:
Rasputin
(97 sec)
Match Results (Last 35 Days)
No matches in last 35 days.
Title History
No titles earned.
Fun Facts
The inspiration behind several "films": not suitable for kids.
Secretly The Swinger
His favourite singer is Miley Cyrus.
Special Moves
Signature 1:
Signature 2:
Finisher 1:
Finisher 2:
Match Stats by Type
Singles: 10-18-0
Win by: Pinfall: 9, Count-Out: 1
Losses by: Pinfall: 17, Submission: 1

Triple Threat (1-fall): 6-4-5
Win by: Pinfall: 5, Ladder Clutch: 1
Losses by: Pinfall: 3, Submission: 1
No Falls: 1

Four-Way (1-fall): 1-0-1
Win by: Submission: 1
No Falls: 1

Four-Way (Elim): 0-7
Elims by: Submission: 1
Eliminated by: Pinfall: 6, Table: 1

Six-Way (Elim): 0-2
Elims by: Pinfall: 1
Eliminated by: Submission: 1, Pinfall: 1

Eight-Way (Elim): 0-5
Elims by: Pinfall: 1
Eliminated by: Pinfall: 4, Submission: 1

Battle Royal: 1-15 (14 Eliminations)

Royal Rumble (30): 0-1 (3 Eliminations)