Marshall Magnum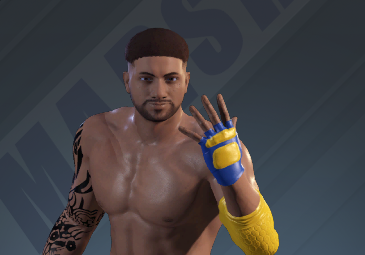 Match Results (Last 35 Days)
Fun Facts
Tru Villain Manny is spelled without the 'e' to avoid literally spelling out 'evil' in the name.
Manny found the most amazing beer after trying only 4 pints. He forgot what that beer was after 4 more.
When Stone asked Manny for fun facts he found it utterly impossible to come up with a 3rd one.
His opponents call him Triple M. the ladies just say mmm...
Little kids wear Superman PJs to bed. Superman wears Marshall Magnum PJs.
Magnum is not only Marvelous. He is also Magnificent and Majestic!
Every so often, Magnum feels sorry for these lesser wrestlers and let's them get a move in. He's got such a big heart.
Special Moves
Signature 1: Fireman
Signature 2: Da Shout Out
Finisher 1: Three Amigos
Finisher 2: Crossface 2

Match Stats by Type
Singles: 28-36-0
Win by: Submission: 13, Pinfall: 12, Table: 1, Cage Climb-Out: 1, Disqualification: 1
Losses by: Pinfall: 29, Submission: 3, Count-Out: 3, First Blood: 1

Singles (Best 2 of 3 Falls): 1-3-0
Win by: Table: 1
Losses by: Submission: 1, Pinfall: 2

Triple Threat (1-fall): 6-5-3
Win by: Submission: 3, Cage Climb-Out: 1, Pinfall: 2
Losses by: Pinfall: 5
No Falls: 5

Triple Threat (Best 2 of 3 Falls): 1-0-0
Win by: Submission: 1

Triple Threat (Elim): 3-1
Elims by: Pinfall: 1, First Blood: 1, Submission: 1, Knock Out: 1
Eliminated by: Pinfall: 1

Four-Way (1-fall): 2-0-2
Win by: Submission: 1, Pinfall: 1
No Falls: 1

Four-Way (Elim): 5-5
Elims by: Submission: 3, Pinfall: 7, Table: 1
Eliminated by: Pinfall: 5

Five-Way (1-fall): 0-0-1
No Falls: 5

Five-way (Elim): 0-6
Elims by: Submission: 1
Eliminated by: Pinfall: 5, Table: 1

Six-Way (1-fall): 0-0-1
No Falls: 1

Six-Way (Elim): 0-2
Elims by: Submission: 3, Pinfall: 1
Eliminated by: Pinfall: 2

Elimination Chamber: 0-1
Eliminated by: Pinfall: 1

Eight-Way (1-fall): 0-0-4
No Falls: 1

Eight-Way (Elim): 2-15
Elims by: Submission: 6, First Blood: 4, Knock Out: 2, Pinfall: 1
Eliminated by: Pinfall: 11, First Blood: 2, Knock Out: 2

Survivor Series (Singles): 0-1

Battle Royal: 0-12 (10 Eliminations)

Royal Rumble (20): 1-0 (3 Eliminations)

Royal Rumble (30): 0-6 (1 Eliminations)